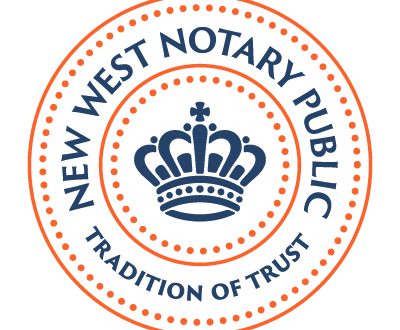 New Decade, New Name, Same Tradition of Trust: New West Notary Public
We are excited to announce that as of January 20, 2020, Martin the Notary (Martin Kastelein Notary Public) will be doing business as New West Notary Public.
We will remain at our office on Sixth Street in New Westminster. Our phone and fax numbers remain the same, while the website has been renamed newwestnotary.ca (don't worry, we've put in redirects) and the email address for our office will be: [email protected].
Why a Name Change?
Moving into a brand new decade, we thought it was also an excellent time that reflects our expansion to serve a growing number of clients both in New Westminster and beyond. In addition to Martin Kastelein, our team includes:
Shelly Ram, Conveyancer
Sharon Nolan, Conveyancer
Abi Rodriguez, Reception and Personal Planning Documents support
Jessica Bi, Bookkeeper
We are now able to provide services in multiple languages, including English, Dutch, Bengali, Hindi and Punjabi.
What Hasn't Changed
Our team will continue to help clients who are buying or selling a home, working on preparing their Wills, or proactively planning for the future via personal planning documents like, Enduring Powers of Attorney and Representation Agreements.
Our team takes great pride and pleasure in our work. We believe in our community and we plan to stay actively engaged in the organizations and events that make this such a great place to live. You'll continue to see us supporting events like Ride for Refuge and the annual New West Grand Prix as well as supporting local teams and participating in fundraisers for local non-profits.
We are here to serve, and we will continue to treat every client with respect and the highest level of professionalism. We look forward to the new decade and helping even more people in New Westminster and across British Columbia with all their notary needs.